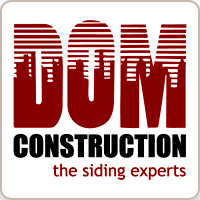 Dom Construction is the siding expert for residential or commercial applications. Fast, dependable and affordable solutions for all siding projects.
Commercial Siding
Material applications to fit any project. New construction or remodel, our team is always on time.
Residential Siding
New construction and remodels offering a wide selection of siding materials.
Window Replacement
We can replace windows in a remodel project as needed.
Get a Quote For Your Project
No Project Too Big Or Too Small
There are no projects that are too big or too small for our crew of experienced craftsmen.
We deliver quality work on time and within budget. We can provide siding for new construction or remodel in both commercial and residential applications. We work with our customers and construction teams hand-in-hand on every aspect of the siding project to ensure complete satisfaction.
Dom Construction is a proud partner with many of the industry leading siding suppliers to bring a wide option of siding choices to your project.
Commercial New Construction
Working hand-in-hand with other sub-contractors, we installed siding on the new construction of the Larc Apartments in Burien.
Residential New Construction
Fiber Cement panels provide protection from deterioration, wood-boring insects and the damaging effects of UV light. Engineered to guard against moisture, these panels provide an affordable, modern exterior finish for an upscale market.
Residential New Construction
New residential construction featuring Hardie Artisan Lap siding with cedar shingles.
The Artisan Collection by James Hardie is for those with impeccable taste. Offering gorgeous, deep shadow lines and extra thick boards, Artisan lap siding and trim will sets a home apart.
We've Been Building For Over 29 Years
We were established in 1990 and have completed thousands of jobs all over the Puget Sound region. We service homes, condominiums and commercial buildings. We work on new construction or renovations and have the ability and crews to work on any size project. From a single home to a multiple building jobsite, Dom Construction is the company that you can depend on to complete your project on time and within budget. We are licensed, insured and bonded with a history of superior service with a lengthy list of satisfied customers.
We use only the best materials available with unparalleled choices of colors, styles and manufacturers. Your satisfaction is guaranteed. Call now to request a free quote.
Call For a Quote:
206.870.0329
We used Dom Construction to do the siding on our house as well as replace all of our windows. Kenneth was very responsive and provided a clear, detailed and fair estimate for the work. The crew that came were thorough, hard workers and cleaned up after themselves everyday. The painters did a great job and everyone was quick, responsive and professional. We highly recommend them!
DOM Construction has sided two homes for me; one cedar 10+ years ago and one Hardie completed recently. I received 3 bids for the recent project and DOM was by far the most competitive. Workmanship continues to be topnotch, work schedule kept, on-site crew professional from start to clean up. Would highly recommend DOM Construction.
We had DOM construction reside our house. We received quotes from a number of contractors and DOM was the most reasonable as well as the most professional. Steve from DOM showed us a number of products and we settled on high end vinyl siding (multicolored and textured). We were initially hesitant, given how popular Hardie board is in the Pacific northwest, but once we saw the product we couldn't be happier. It was definitely the right decision at a fraction of the price of Hardie. Yi (one of Steve's guys) did meticulous, high quality work. He fixed a large number of issues that were discovered during the re-siding process of the house (no additional cost). They also repaired a rotten beam in front of the house, spending many hours beyond the estimate (at no additional cost). We are extremely happy with the results of the work.